Petroleum Services is one of the world's leading decision and transaction support groups in upstream oil & G.M.S can provide the following services :
1. In / Out Port calls for vessels & supply Boats working in oil field at Egyptian Ports :
– We are an official agent, handling In / Out Port calls at all Egyptian ports ( Port Said, Suez ,
Damietta , Alexandria ) for vessels & supply boats serving drilling rigs at Red Sea &
Mediterranean Sea .
– Arranging with local authorities for a smooth movements ( In / Out ) port, by completing
formalities & Clearances for port call.
– Settle all fees required to be paid to governmental authorities such as ( port dues, quarantine,
custom tamkien, pilotage , berthing dues, mooring & Unmooring ) as well as any other port
authorities fee including the payment of any deposit require .
– Arrange of the reception of any marine unit on arrival Egyptian territorial water and coordinate
with all authorities (immigration, coast guard, quarantine, port authority) for immediate clearance
at working area without any delay.
---
2. Custom Clearance (Importation / Re-exportation) for Drilling Rigs, Supply Boats & Marine units working at the Territorial water.
– Through our offices, we arrange & coordinate with the custom Authority for all the formalities require for importation or and re-exportation under any clearing status ( exemption- temporary exemption – duty paid – free zone – Transit ) .
– We arrange for immediate custom importation for the marine units up on arrival at working location by handling the
following: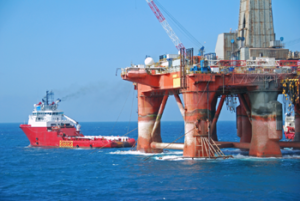 A. Prepare all necessary documents to open custom certificate such as (packing list, pro-forma invoice and custom
declaration).
B. Prepare custom committee for boarding the unit for inspection at location up on arrival.
C. Arrange for safe transportation ( helicopter – boat – etc ) to / from the marine units for custom group.
D. Complete all clearance formalities in a short time to secure legal working of marine units in Egypt.
E. Follow the custom file during the project and arrange for renewal before the date of expire in order to avoid any custom . fine.
F. For re-exportation the same steps taken to avoid any delay for sailing from location to the next employment.
G. Arrange for closing custom file immediately after completion of re-exportation formalities.
H. Final settlement for custom certificates
---
3. Prepare and issue Military & Security Permits .
GMS arranges for military and security approvals necessary for any marine unit ( drilling rigs –
supply boats – diving boats -research vessel – cable or coring vessels – etc) and crews to
work in Egyptian territorial waters.
Potential prior approvals would be coordinated through:
o Armed forces (operation sectors) , intelligence ,security ,naval bases, air forces, coast guard.
o National security .
o Environment authority .
o Group 26 .
o Ministry of Maritime Transport .
o Port & Light .
And issue the following permits:
o Navigation warning
o Coast Guard permit
o Group 26 permits for crew and Staff
o Telecommunication license for communication equipment ( V.H.F – H.F Radar- etc) on board the marine units .
o Permits for Inmarsat, working via satellite stations.
---
4.Staff & crew arrangements
– Issue the necessary permit from the Ministry of Maritime Transport for working in the
Egyptian Territorial waters.
– Issue necessary port passes.
– Issue work permit & residences for foreigners to work in Egypt.
– Arrange assistance at airports for (staff, crew) & issue entry visa.
– Assist crew changes for the marine units by arranging formalities with Immigration & Security.
– Arrange the dispatching of crew by helicopter from/to drilling rigs at local airports in
Egypt ( El Gameel Airport – El Nozha Airport – etc)